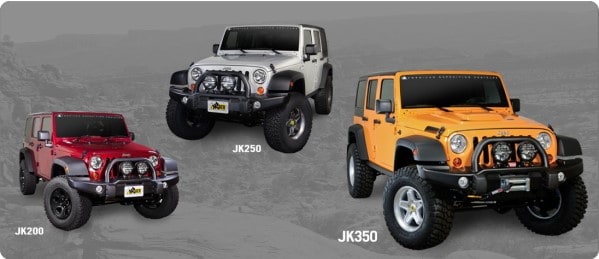 AEV Jeep Wrangler Packages

American Expedition Vehicle's turn-key packages for the JK Wrangler represent the culmination of our engineering and product design. Our products are all designed to work in concert with each other, from the relationship of the offset of our Wheels, to the rear closeout of our Front Bumper, or the integration of the Hood and Snorkel. An AEV vehicle is more than just a combination of parts, it's a complete vehicle system. With styling that is unmistakably American Expedition Vehicle and great performance whether off-road or on-road, these vehicles will take you anywhere you want to go, and look great doing it.
Billion Chrysler Dodge Jeep of Bozeman, and AEV offer 3 packages that you can start from to build your ultimate Jeep.

The JK200 is an approachable starting package, with a lower lift height and an easier step-in, while still including AEV's Front Bumper to create that distinctive AEV-look.
The JK250 takes it up a notch, adding a Rear Bumper and Tire Carrier, as well as a 2.5" Dual Sport XT Suspension Lift and 35" Tires.
The JK350 is fully loaded and off-road ready, adding Mud Terrain tires and a Warn winch, as well as skid plate protection and AEV's Heat Reduction Hood.